Decimal Squares® Classroom Center at decimalsquares

Home > Decimal Squares Products > Decimal Squares® Classroom Center

Decimal Squares® Classroom Center

---
Decimal Squares® Classroom Center

Best Seller! This set includes all the materials needed to teach an entire range of decimal and percent topics. A complete program with assessment materials demonstration materials simple-to-follow 2-page lessons motivating games reproducible masters for activities and manipulatives and cards for student use in developing concepts and language relative to decimals. Classroom Center includes: 10 sets of Decimal Squares® sets of corresponding Decimal Playing Cards Decimal Squares® Transparencies Decimal Squares® Teacher's Guide the Teacher Resource Package Activity Mats game markers and 7 dice. See individual component descriptions. Comes in a convenient carrying-storage case. Designed by mathematician professor and author Dr. Albert B. Bennett Jr. Grades 3-9. Ages 10-14.

Purchase this product from the following companies:

Quality Math Products - Product Number SR0875

Ward's Science - Product Number 470230-850

American Educational Products - Product Number SR-0875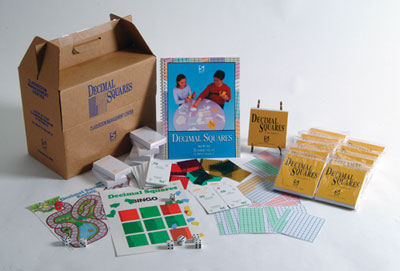 Detail image

---

About the Author.

Home Page

Please direct questions and comments about this page to abbj@unh.edu Copyright 2019, Albert Bradley Bennett, Jr.